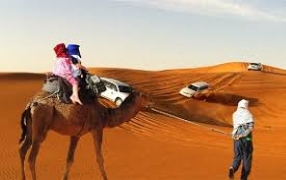 Camel Ride with Desert Safari
All inclusions + Desert Safari
Pick and drop service form your home or hotel anywhere in Dubai and Sharjah.

45 minutes trail-styled, and guided camel ride through the desert.

A chance to spot and photograph desert wildlife like the Arabian Oryx.

Cold drinks, Soft Water, Tea, Coffee

Amazing landscape an photography opportunity
Quade bide

Dune buggy

Sand boarding

Dune bashing
Are Additional & Not Included In Self Drive | Standard | Advance Package
Pick-Up From / Hotel / Residence Will around 02:30 03:00 PM (Evening), and 07:30 to 08:00AM(Morning).(depending upon package)

Drop off time will depend upon which package you choose

Your Designated Safari Guide Will Call You At Provided Contact Before 1 Hour From Pick-Up Time.
Camel Ride Dubai Tour In Evening !
Anyone looking for car hire in Dubai can take one of our Land Cruisers or similar cars and travel to wherever they want to go.
if you're 25-30 minutes from Lehbab or Al Awir, give Dune Bashing a try.
this expedition offers 30 minutes of Camel Rides.
Have you been offered free sand boarding?
Non-smoking shisha in a luxurious and chic open lounge.
Let's see some belly dancing.
This Tanura Dance Performance
Burning Passion
This BBQ has both vegetarian and non-vegetarian entrees, from fried catfish to Cajun meatballs.
As a suggestion, consider taking a camel ride tour in the morning.
Ride in the luxurious Land Cruiser all over Dubai and Sharjah.
dune Bashing, accompanied by Lehbab, red sand desert.
enjoy a 30-minute camel ride.
Have some free time to go Sand Boarding.
An infinite supply of drinking water.
Delete entry.
Quad Biking Optional but if you don't you'll need to pay an extra 100 AED for 20 minutes.
Riding the horse Optional. If you wish to ride the horse, you must pay an additional 100 AED for 20 minutes.
Beer, wine, and hard liquor
If you're choosing the time of your camel ride, consider coming in the evening.
Pick up time between 3:00 pm and 3:30 pm.
Arrive by 8:00 PM and leave by 8:30 PM.
The total duration is 5 to 6 hours.
You pick up your ride to do the camel trek in the morning.
Pickup Time: 
You can schedule your pickup anytime from 5:00 am to 10:00 am.
Depends on when the pick-up time is.
3 to 4 hours in length.
Flexible Payment Plans
For the day of the tour, you can give the driver cash.
You can easily purchase with PayPal by opening an account.
Please move your account to our company's bank account.
Paying by credit card on the day of the trip may cost some additional fees.
The following Cryptocurrencies are also accepted: Bitcoin, Ethereum, and Litecoin.
My safety is the most important thing.
All of our vehicles are fitted with safety equipment and are insured against passengers.
Staff here are trained in first aid and have seat belts installed in every seat for your safety. Everyone needs to wear a seat belt for their own safety.
With a Million Dollars Insurance Policy in place, we are the ones secure.
Our drivers have a DTCM (Dubai Tourism and Commerce Marketing) qualification for desert safaris.
Be aware of the following
When visiting a Desert Safari in Dubai, a camera is necessary because the views are beautiful and worth capturing.
Dress in comfortable, casual clothes.
It's encouraged to wear flip-flops or sandals.
TAKE CARE TO AVOID
It's not recommended for the elderly or infants to experience something that may thrill, like a dune bashing activity, but they may enjoy a camel ride.
For the sake of their unborn babies, pregnant women are not allowed to go dune bashing or ride camels.
Take a camel ride in the evening.
This camel ride provides the core experience of the desert: through it, you will see the long history of the Arabian Desert. Our plan was to do the camel ride in Dubai's desert in order to experience and appreciate the city's culture.
A representative from our team will pick you up in the afternoon and take you on a tour of the Dubai desert, including desert safari and camel rides.
Sitting atop the bumps of our well-trained camels, feel the beat and heat as you ride, ever so smoothly on our desert ship, revealing the shifting dunes and the fascinating landscape; steadily travelling across the desert. Following your camel ride, the driver will take you for a different exciting ride and drop you off at our desert camp at sunset, where the hospitality of our staff awaits you with Arabic tea and sweet dates.
When you visit the place, you can also enjoy the delicious traditionally prepared and flavored sheesha, a regional specialty from the Arabic country, and stalls of henna painting. Arabic costumes are available for people to wear and take photos in.
This evening concludes with spectacular dance performances by the talented Arabian Belly and Tanura dancers and barbecue dinner. In the comfort of a return trip home, our drivers will drive you to your doorstep.
Camel ride in the morning
The morning desert safari pickup service will pick you up from your desired location and bring you to the desert, which is about 50 minutes from downtown Dubai.
Once you cross the desert, he will decrease the tire pressure, while you will get a few minutes to rest.
Dune bashing is the main attraction of the desert safari and you'll enjoy it for 30 to 45 minutes. At the end of the breathtaking safari, your tour guide will provide you with sand boards. Be sure to bring your camera and enjoy.
He will drive you to the next spot, which is the camel camp. Camels are there for you to enjoy a camel ride, then our safari captain will take you back to your location.
Cancellation & Booking Policy
All cancellations before 12 hours before departure will be given a full refund.
for evening safaris, if you cancel before 2 hours before the time, you will get a 50% refund.
If you qualify for the refund, it will be sent to your account in 7 working days.
You'll not be getting a refund if you cancel your morning safari tour.
Information about a desert with camels for a tour
You can reserve evening tour seats as they come available on a first-come, first-served basis, but please provide advanced notice if you're requesting a particular seat in a specific vehicle.
Please click on this link to find the evening camel ride dinner menu.
According to government guidelines, live entertainment and alcohol are unavailable during the month of Ramadan or dry days.
Infants below the age of 4 years old are regarded as babies, and admission for babies is free of charge.
The age range of kids at 4 to 10 years will be considered children, and the child rate will be applied.