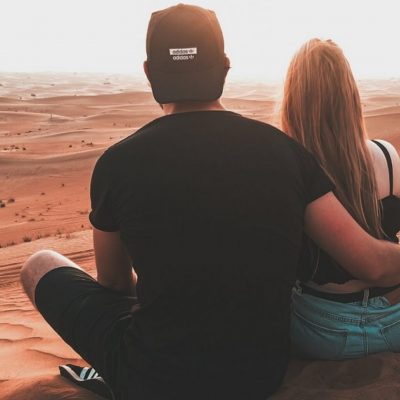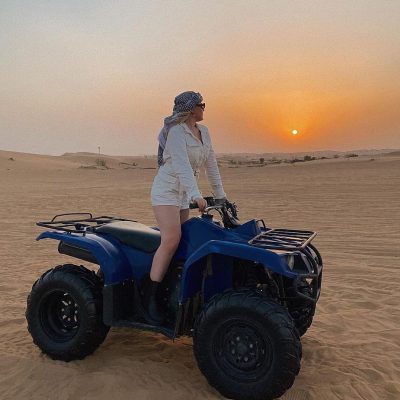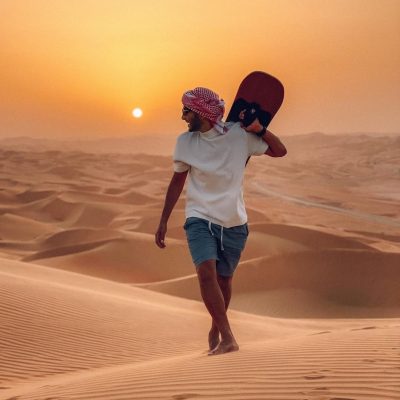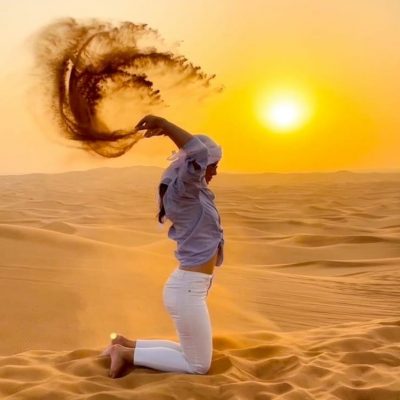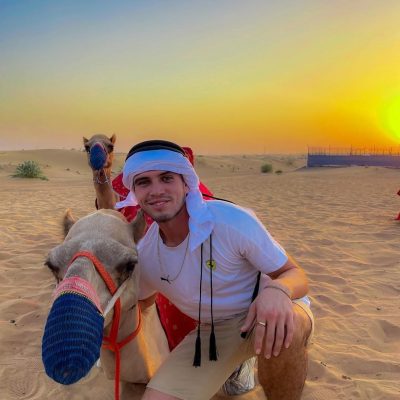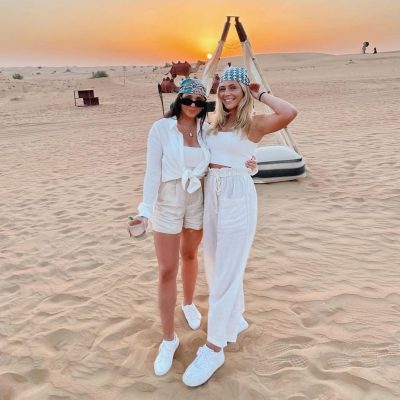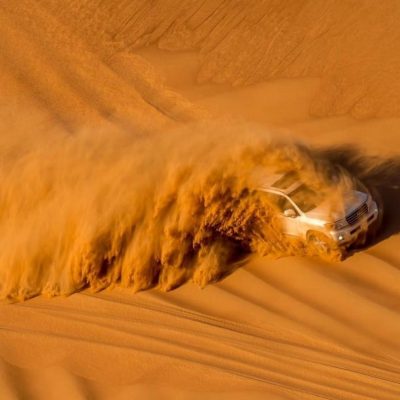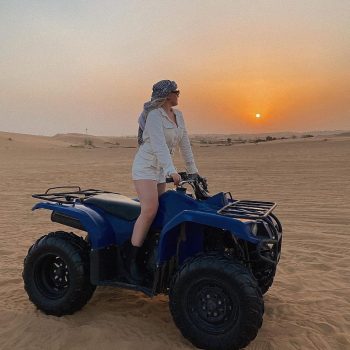 VIP Desert Safari With Quad Bike
All inclusions + Quad Bike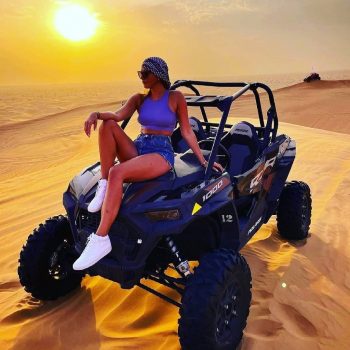 VIP Desert Safari With Dune Buggy
All inclusions + Dune Buggy
VIP DESERT SAFARI INCLUDES
Pick-up and drop back from the hotel and residance.

Desert Driving & Dune bashing in 4 by 4 by professional drivers trained in Dubai desert driving.

Buffet and live cooking station (unlimited food) include: Starters (Mini Punjabi samosa, falafel, shawarma, bread Zaatar and spring rolls Salad Bar (Hummus, Green salad, Russian salad, Fattoush and macaroni) Assorted live bread cooked in front of the guestLive grill (Chicken leg, Lamb kebab, Shish kebab, Fish fry and Ouzi)Main courses (Steamed rice, Biryani rice, Veg noddles, Pasta in red sauce, camel meat with sauce, Dawood Basha, vegetable curry and sauteed vegetables)Desserts (Fresh fruits, Rice in Vermicelli pudding, Baklava, Omali and Kanafeh)
Short Camel's Ride

Buffet Dinner With Live BBQ

Sand Boarding

Arabic Costume Photography

Heena Tattoo
Smoke Flavored Arabic Hukkah (Dedicated Area)

Live Fire Show Performance

Two Tanura Dance Colorful Lighting show

Two Live Belly Dance Show on Arabic Music
Horse Ride

Long Camel Ride

Quad Bike
Are Additional & Not Included In Self Drive | Standard | Advance Package
Pick-Up From / Hotel / Residence Will around 02:30 03:00 PM.

Drop back around 08:30 PM / 09:00 PM (30 Miniutes ±).

Your Designated Safari Guide Will Call You At Provided Contact Before 1 Hour From Pick-Up Time.
Here's what the VIP Desert Safari includes
Pick-up and drop back to and from the hotel and the office.
Do you want to go desert driving and experience dune bashing? Well, a team of pro 4 by 4 drivers who've been trained in desert driving in Dubai are at your service.
We have a variety of options including international cuisines like Punjabi samosas, falafel, shawarma, hummus, green salad, Russian salad, fattoush, macaroni, lamb kebab, shish kebab, fish fry, ouzi, vegetable curry, camel meat with sauce, dawood basha, kanafeh, fruit, vermicelli pudding, baklava, omali, and much more.
A Short Story About a Camel's Ride
A Buffet Dinner With All The Tasty BBQ On Site

Rolling on sand dunes.

I take Arabic Costumes Photos

Heena Tattoo and Spa

Flava'D Turkish Smokeshop (Separate Smoking Area)

Improvised pyrotechnic show

Tanura, The Colorful Lighting Show

Live Belly Dance on Arabic Music
RESERVED SERVICES
Enjoy a horse ride.

Lonely Camel Ride

Four-wheeled ATV
Extra and not included in the self-drive packages: Standard or Advanced
INFORMATION ON OUR SCHEDULE
The Pick-Up From / Hotel / Residence will take place at 02:30 to 03:00.

Return to this place in 08:30 PM / 09:00 PM.

Your Designated Safari Guide will contact you at the time indicated before 1 hour from the time of pick-up.

 
Dune Bashing in the Morning: The Best Deals on Desert Safaris
Dune bashing in the morning can be some of the best times to go on desert safaris because there are fewer people out, and you'll get to see the rising sun over the dunes in the distance. If you're looking to book one of these great desert excursions, here are some deals that are on offer right now. The best part? They're available without any additional expenses like food or water, so all you need to pay is the agreed upon price when you arrive.
VIP Desert Safari dubai
Although many of Dubai's most popular tourist activities are firmly night-time-only affairs, there is one family activity that combines fun, adventure and educational learning – a desert safari. This can be an entertaining and educational opportunity for families to connect with their surroundings and see Dubai from a different perspective. However, if you're planning to take your kids to an awesome adventure out in Dubai's deserts, it pays to find out which desert safari company is right for you!
 Travellers may think that all desert safari experiences are alike, but their exact offerings can vary widely. Here's a look at some of VIP Desert Safari Dubai's top benefits and why families should give them serious consideration for their next family outing.
It's important to note that you won't have much time to dally as you travel through Dubai's desert areas. This is because of VIP Desert Safari Dubai's state-of-the-art, 30-seat Mercedes vans that are equipped with GPS devices. This way, they can navigate efficiently and directly towards whichever animals they happen to find along their way so that passengers will be able to see them without having to wait around for too long! 
Private Vehicle and lounge 
Private desert safari vehicles are costlier than large tour buses but worth it for those who want a more personalised experience. 
These vehicles can hold up to 10 people and you'll get service with a personal guide, who can also give you information about all kinds of wildlife along your route. 
That comes with a price tag though, as private safari costs can easily run at least 50% more than shared tours. If you do choose to go for a private vehicle, make sure you have enough time before sunset to be back at your hotel or lodge—these trips generally take at least five hours each way and your driver will leave once everyone is dropped off.
Thrilling Rides in VIP Desert Safari
Make sure you don't let a little early morning dune bashing stop you from taking part in one of Dubai's favourite activities. While most tours start after mid-day, it's easy to find one that meets your schedule and gives you VIP treatment for prices that will have you crawling out of bed. 
From jeep rides across dunes with views over rolling sand to camel treks and ATV trips, each offers an exciting experience that brings visitors close to Mother Nature. 
VIP dune bashing is great because it allows participants an up-close look at wildlife as they take a spin through popular wildlife spots like Hellfire or Wadi Adventure.
Entertainment Shows & Buffet Dinner
Before you board your safari vehicle, stop by our entertainment tent to enjoy fun activities like face painting, henna tattooing, and belly dancing. 
It's also where you can pick up discounted tickets for dining at local restaurants (some with buffet dinners) before or after your desert tour. 
Entertainment tents vary from park to park, but are always near or alongside our Dune Buggy ride vehicles. Many of our parks have small gift shops as well; it's a great way to pick up last-minute gifts for children without breaking your budget. 
 With seating for up to six guests, our Dune Buggy rides allow you to keep an eye out for camels, gazelles, and more without losing your appetite. Special diets are welcome; just let us know ahead of time and we'll make sure you have something to eat.
BENEFITS OF VIP DESERT SAFARI DUBAI
DUNE BASHING IN THE MORNING -This is for those who want to try and experience what desert safari is all about, but also at a moderate cost. In this package, you will drive around over sand dunes, with experienced guides by your side. 
Some of these sand dunes are even higher than any you have seen or ridden before; if you are into adrenaline activities, then Dune bashing Dubai is a good way to get your rush for an affordable price! If you feel like having some extra fun during your experience, then why not try sand boarding? If you don't know how it works – it's very simple; just lay flat on top of a board and go down as fast as possible.
Safety Tips
Dune bashing can be a fun and exhilarating experience, but it is also inherently dangerous. To ensure you have an enjoyable and safe trip, follow these tips to stay safe while dune bashing. Be sure to tell someone where you're going and when you expect to return. 
Never go alone; always bring at least one other person with you. Be extra careful if you notice sand-covered roads or a drop-off in temperature while driving; conditions like these can mean that a storm is quickly approaching and could lead to flash flooding and flash floods are extremely hazardous. 
Always wear a seatbelt no matter what type of vehicle you're riding in and never drive under pressure—it's easy to lose control of your vehicle on dunes because of all the shifting sand beneath your tires.
COMPLIANCE WITH COVID-19 PRECAUTIONS
There are several necessary precautions that must be taken when travelling through dunes, especially during monsoon season. 
Oftentimes, sand can be very wet and may require special footwear for safety. Travellers must also remember to carry basic personal items such as sunscreen and water with them at all times to ensure their comfort and to avoid complications from dehydration.
 Finally, locals tend to warn visitors against climbing atop sand dunes that have significant drops or height differences between various elevations. 
Therefore, one must always make sure they stay aware of their surroundings while dune bashing and never turn their back towards a steep drop off into an abyssal chasm within any given desert locale!
 Make sure to always stay attentive and exercise caution when travelling within any given desert environment, especially during monsoon season.
DUNE BASHING in dubai
Known as a dune bashing activity, desert dune bashing includes 4×4 jeep and camel rides through desert landscapes with opportunities to jump sand dunes. Explore Dubai's true natural landscape while saving money by reserving a dune-bashing trip. Also known as safari rides, these trips can be booked individually or as part of a larger tour. Make your reservation today and begin exploring some of Dubai's most interesting locations, including marina mall, barasti beach and city walk plaza.
 Your adventure begins at sunrise, where you'll drive through Dubai and arrive at an ancient desert for an outdoor breakfast. Y
you can choose to dine at a Bedouin camp or stay indoors. Afterward, your camel or jeep will take you across sand dunes to reach a breathtaking view of sunrise over the Arabian Gulf. All ages are welcome on these trips, so bring your family members and friends along! Afterwards, you may choose to visit Barasti Beach before returning home.
SAND SURFING in desert 
Sand surfing is a great way to experience a desert safari. The thrill of using speed and finesse to ride a sand dune down to the bottom is unlike anything else you can do in Dubai or any other Middle Eastern desert. 
Sand surfing, also known as sand boarding, works because of how sand grains behave under pressure. The pressure of your weight compacts each grain against its neighbour creating a type of wooden board that holds up and glides across soft sand surfaces. 
"It's surprisingly easy to learn and can be done by children as young as eight years old with parental supervision required for younger children."
HORSE RIDING in VIP desert safari
 Horse riding is something that gives you a feeling of freedom and liberty. A good equestrian, who has some experience of riding, is sure to feel alive after a horse ride. Horseback riding and camelback riding are two best things to do during a desert safari which is fun as well as adventurous. All kinds of horse rides offered by us at Sahara trips and camel rides for toddlers are safe for both experienced riders and beginners alike. We believe that our customers should enjoy their tours like never before! Hence we organise one day camel or horse riding excursions near Dubai with great care and concern so that our clients enjoy every moment of their tours hassle free.
QUAD BIKING in VIP desert safari
If you're looking for something a little more exhilarating than a dune buggy ride, try quadding! Quad biking tours are popular because they let you experience desert life as it was before civilization took over. 
No offence, right? It's just that driving across an endless sea of sand is beautiful and exciting when done from a new perspective. 
If you have time to spare during your safari tour and want to feel what it would be like to be one with nature, hop on one of these super-fun machines and get ready for an adventure. You can hit 120 kph (75 mph) while feeling totally secure because of all that heavy duty padding surrounding you!
But that's not all you can do here. After a quadding experience, head over to our ropes course, where you can hang off of your safari truck and get a stunning aerial view of endless sands. You'll want to take tons of pictures so everyone back home will know what it feels like to see life through your lens. If you feel brave enough, try getting a camel ride around our campsite—it's for a great cause!